Spinning and Weaving Guild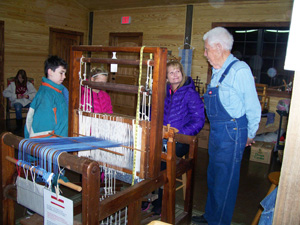 Background
The Heritage Village Spinners and Weavers Guild was formed in November 1993 by local area residents for the purpose of furthering the knowledge of the fiber arts of spinning and weaving. The guild's main purpose was to provide knowledgeable demonstrators for school groups that frequent Heritage Village.

The Guild meets on the second Saturday of every month in the Fiber Arts building at 9 am. The talents of the members span the range of the fiber arts and welcome all.
Workshops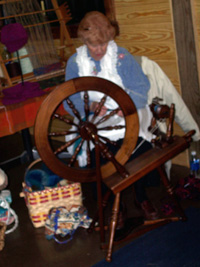 From time to time the Guild gives workshops for various subjects such as:
washing a fresh fleece
felting
dyeing
spinning
art batts
warping a loom
various weaving structures
color theory
knitting
crochet
handmade lace
tatting

Contact: Call 409-383-7787 for more information.
Location: The Fiber Arts Building at Tyler County Heritage Village, 157 Private Road 6000
Woodville, Texas 75979


Contacts

If you ever wanted to learn about the various fiber arts, we have a place for you. For more information please contact:
Heritage Village Museum, 409-283-2272 or 1-800-323-0389.